I/O Emulation High-Level Design¶
As discussed in Device Emulation, there are multiple ways and places to handle I/O emulation, including HV, Service VM Kernel HSM, and Service VM user-land Device Model (acrn-dm).
I/O emulation in the hypervisor provides these functionalities:
Maintain lists of port I/O or MMIO handlers in the hypervisor for emulating trapped I/O accesses in a certain range.

Forward I/O accesses to Service VM when they cannot be handled by the hypervisor by any registered handlers.
Figure 102 illustrates the main control flow steps of I/O emulation inside the hypervisor:
Trap and decode I/O access by VM exits and decode the access from exit qualification or by invoking the instruction decoder.

If the range of the I/O access overlaps with any registered handler, call that handler if it completely covers the range of the access, or ignore the access if the access crosses the boundary.

If the range of the I/O access does not overlap the range of any I/O handler, deliver an I/O request to Service VM.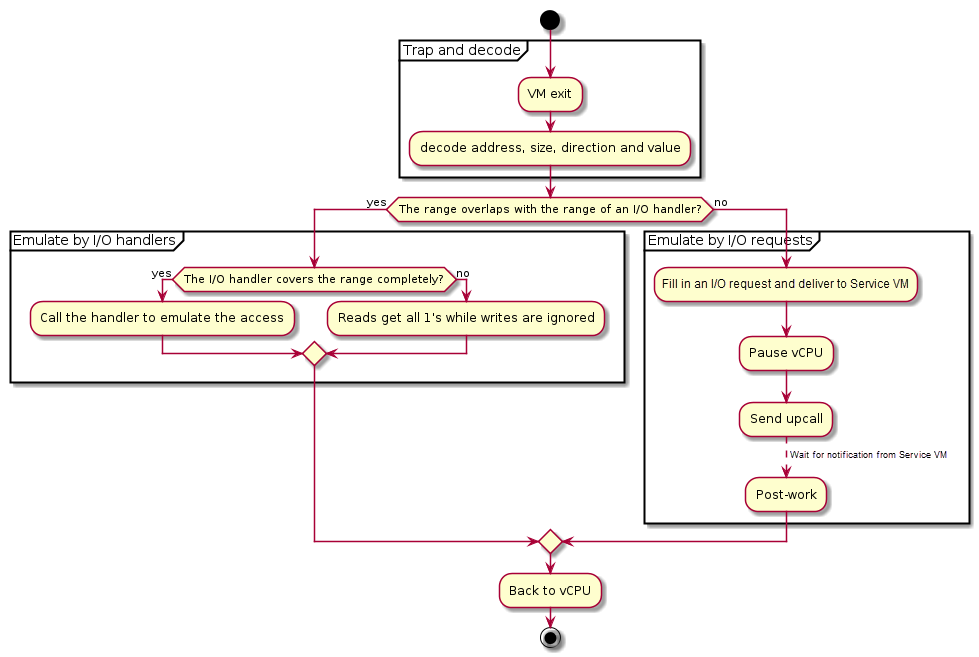 I/O emulation does not rely on any calibration data.