Sample Application User Guide¶
This sample application shows how to create two VMs that are launched on your target system running ACRN. These VMs communicate with each other via inter-VM shared memory (IVSHMEM). One VM is a real-time VM running cyclictest, an open source application commonly used to measure latencies in real-time systems. This real-time VM (RT_VM) uses inter-VM shared memory (IVSHMEM) to send data to a second Human-Machine Interface VM (HMI_VM). The HMI_VM formats and presents the collected data as a histogram on a web page shown by a browser. This guide shows how to configure, create, and launch the two VM images that make up this application.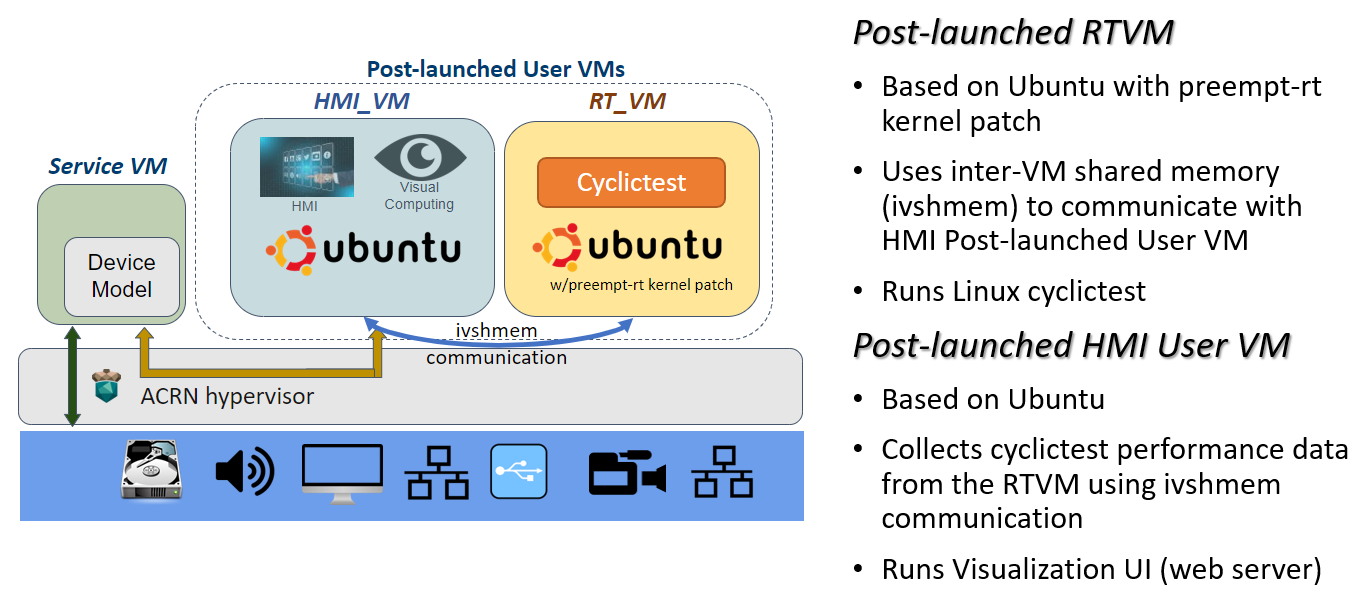 We build these two VM images on your development computer using scripts in the ACRN source code. Once we have the two VM images, we follow similar steps shown in the Getting Started Guide to define a new ACRN scenario with two post-launched user VMs with their IVSHMEM connection. We build a Service VM image and the Hypervisor image based on the scenario configuration (as we did in the Getting Started Guide). Finally, we put this all together on the target system, launch the sample application VMs on ACRN from the Service VM, run the application parts in each VM, and view the cyclictest histogram results in a browser running on our HMI VM (or development computer).
While this sample application uses the cyclictest to generate data about performance latency in the RTVM, we aren't doing any configuration optimization in this sample to get the best RT performance.