Tracing and Logging High-Level Design¶
Both Trace and Log are built on top of a mechanism named shared buffer (sbuf).
ACRN Trace¶
ACRNTrace is a tool running on the Service VM to capture trace data. It allows developers to add performance profiling trace points at key locations to get a picture of what is going on inside the hypervisor. Scripts to analyze the collected trace data are also provided.
As shown in Figure 212, ACRNTrace is built using Shared Buffers (sbuf), and consists of three parts from bottom layer up:
ACRNTrace userland app: Userland application collecting trace data to files (Per Physical CPU)

Service VM Trace Module: allocates/frees sbufs, creates device for each sbuf, sets up sbuf shared between Service VM and HV, and provides a dev node for the userland app to retrieve trace data from sbuf

Trace APIs: provide APIs to generate trace event and insert to sbuf.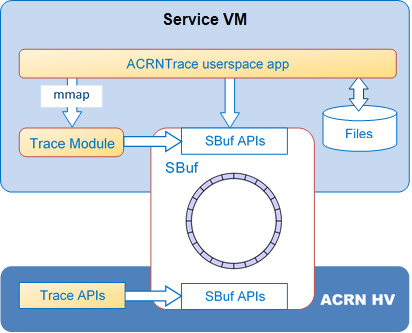 Trace APIs¶
See hypervisor/include/debug/trace.h for trace_entry struct and function APIs.
Service VM Trace Module¶
The Service VM trace module is responsible for:
allocating sbuf in Service VM memory range for each physical CPU, and assign the GPA of sbuf to per_cpu sbuf[ACRN_TRACE]

create a misc device for each physical CPU

provide mmap operation to map entire sbuf to userspace for high flexible and efficient access.
On Service VM shutdown, the trace module is responsible to remove misc devices, free sbufs, and set per_cpu sbuf[ACRN_TRACE] to null.
ACRNTrace Application¶
ACRNTrace application includes a binary to retrieve trace data from sbuf, and Python scripts to convert trace data from raw format into readable text, and do analysis.
With a debug build, trace components are initialized at boot time. After initialization, HV writes trace event date into sbuf until sbuf is full, which can happen easily if the ACRNTrace app is not consuming trace data from sbuf on Service VM user space.
Once ACRNTrace is launched, for each physical CPU a consumer thread is created to periodically read RAW trace data from sbuf and write to a file.
These are the Python scripts provided:
acrntrace_format.py converts RAW trace data to human-readable text offline according to given format;

acrnalyze.py analyzes trace data (as output by acrntrace) based on given analyzer filters, such as vm_exit or IRQ, and generates a report.
See Acrntrace for details and usage.
ACRN Log¶
acrnlog is a tool used to capture ACRN hypervisor log to files on Service VM filesystem. It can run as a Service VM service at boot, capturing two kinds of logs:
Current runtime logs;

Logs remaining in the buffer, from the last crashed run.