Pre-Launched Preempt-RT Linux Mode in ACRN¶
The Pre-Launched Preempt-RT Linux Mode of ACRN, abbreviated as Pre-Launched RT mode, is an ACRN configuration scenario. Pre-Launched RT mode enables you to create a pre-launched real-time VM (RTVM) running Preempt-RT Linux (VM0) and a Service VM (VM1). Their resources are partitioned from those on the physical platform.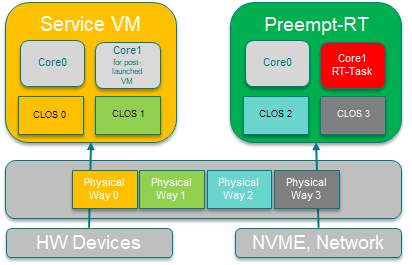 Prerequisites¶
Because the pre-launched RTVM and Service VM are physically isolated from each other, they must have their own devices to run a common OS, such as Linux. Also, the platform must support booting ACRN with multiple kernel images. So, your platform must have:
Two hard disk drives, one for the pre-launched RTVM and one for the Service VM

Two network devices

GRUB multiboot support
Example of Pre-Launched RT¶
Take the Whiskey Lake WHL-IPC-I5 board (as described in Supported Hardware) for example. This platform can connect both an NVMe and a SATA drive and has two Ethernet ports. We will pass through the SATA and Ethernet 03:00.0 devices into the pre-launched RTVM, and give the rest of the devices to the Service VM.