IOC Virtualization High-Level Design¶
The I/O Controller (IOC) is an SoC bridge we can use to communicate with a Vehicle Bus in automotive applications, routing Vehicle Bus signals, such as those extracted from CAN messages, from the IOC to the SoC and back, as well as signals the SoC uses to control onboard peripherals.
Note
Intel NUC and UP2 platforms do not support IOC hardware, and as such, IOC virtualization is not supported on these platforms.
The main purpose of IOC virtualization is to transfer data between native Carrier Board Communication (CBC) char devices and a virtual UART. IOC virtualization is implemented as full virtualization so the User VM can directly reuse the native CBC driver.
The IOC Mediator has several virtualization requirements, such as S3/S5 wakeup reason emulation, CBC link frame packing/unpacking, signal passlist, and RTC configuration.
IOC Mediator Design¶
High-Level Design¶
There are five parts in this high-level design:
Software data flow introduces data transfer in the IOC mediator

State transfer introduces IOC mediator work states

CBC protocol illustrates the CBC data packing/unpacking

Power management involves boot/resume/suspend/shutdown flows

Emulated CBC commands introduce some commands workflow
IOC mediator has three threads to transfer data between User VM and Service VM. The core thread is responsible for data reception, and Tx and Rx threads are used for data transmission. Each of the transmission threads has one data queue as a buffer, so that the IOC mediator can read data from CBC char devices and UART DM immediately.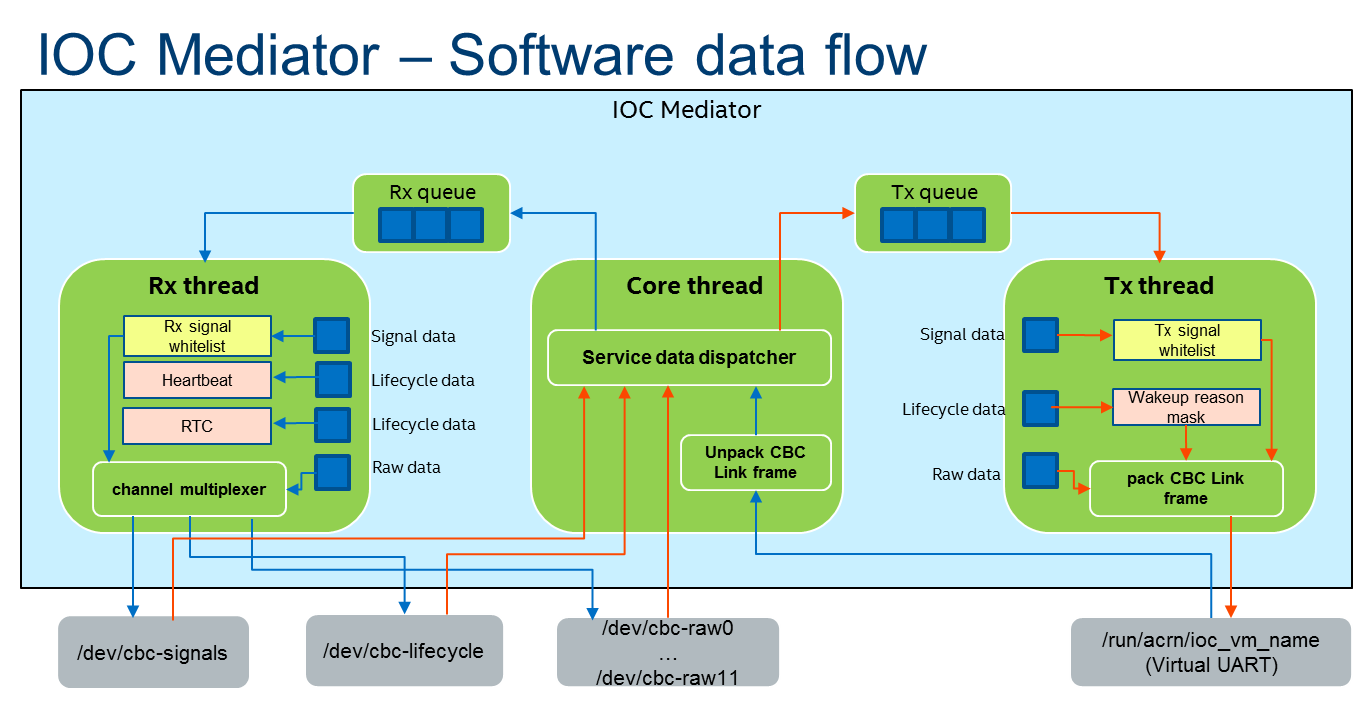 For Tx direction, the data comes from IOC firmware. IOC mediator receives service data from native CBC char devices such as /dev/cbc-lifecycle. If service data is CBC wakeup reason, some wakeup reason bits will be masked. If service data is CBC signal, the data will be dropped and will not be defined in the passlist. If service data comes from a raw channel, the data will be passed forward. Before transmitting to the virtual UART interface, all data needs to be packed with an address header and link header.

For Rx direction, the data comes from the User VM. The IOC mediator receives link data from the virtual UART interface. The data will be unpacked by Core thread, and then forwarded to Rx queue, similar to how the Tx direction flow is done except that the heartbeat and RTC are only used by the IOC mediator and will not be transferred to IOC firmware.

IOC mediator only cares about lifecycle, signal, and raw data. Others, such as diagnosis, are not used by the IOC mediator.
IOC Mediator Usage¶
The Device Model configuration command syntax for IOC mediator is as follows:
-

i

,[

ioc_channel_path

],[

wakeup_reason

]




-

l

,[

lpc_port

],[

ioc_channel_path

]



The ioc_channel_path is an absolute path for communication between IOC mediator and UART DM.
The lpc_port is com1 or com2. IOC mediator needs one unassigned lpc port for data transfer between User VM and Service VM.
The wakeup_reason is the IOC mediator boot reason. Each bit represents one wakeup reason.
For example, the following commands are used to enable the IOC feature. The initial wakeup reason is the ignition button and cbc_attach uses ttyS1 for TTY line discipline in the User VM:
-i /run/acrn/ioc_$vm_name,0x20
-l com2,/run/acrn/ioc_$vm_name