Device Passthrough¶
A critical part of virtualization is virtualizing devices: exposing all aspects of a device including its I/O, interrupts, DMA, and configuration. There are three typical device virtualization methods: emulation, para-virtualization, and passthrough. All emulation, para-virtualization and passthrough are used in ACRN project. Device emulation is discussed in I/O Emulation High-Level Design, para-virtualization is discussed in Virtio Devices High-Level Design and device passthrough will be discussed here.
---
In the ACRN project, device emulation means emulating all existing hardware resources through the Device Model, a software component running in the Service VM. Device emulation must maintain the same SW interface as a native device, providing transparency to the VM software stack. Passthrough implemented in the hypervisor assigns a physical device to a VM so the VM can access the hardware device directly with minimal (if any) VMM involvement.
The difference between device emulation and passthrough is shown in Figure 139. You can notice device emulation has a longer access path which causes worse performance compared with passthrough. Passthrough can deliver near-native performance, but can't support device sharing.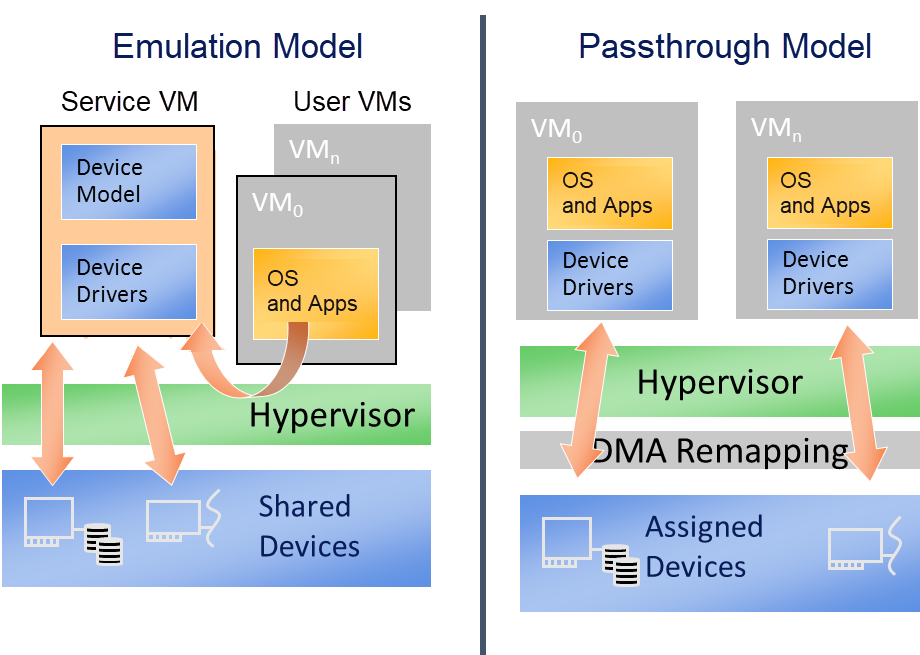 Passthrough in the hypervisor provides the following functionalities to allow the VM to access PCI devices directly:
VT-d DMA remapping for PCI devices: hypervisor will set up DMA remapping during VM initialization phase.

VT-d interrupt-remapping for PCI devices: hypervisor will enable VT-d interrupt-remapping for PCI devices for security considerations.

MMIO remapping between virtual and physical BAR

Device configuration emulation

Remapping interrupts for PCI devices

ACPI configuration virtualization

GSI sharing violation check
The following diagram details the passthrough initialization control flow in ACRN for a post-launched VM: