Security high-level design¶
Introduction¶
This document describes the ACRN security high level design on Apollo Lake SoCs, including information about:
How to build a secure hypervisor, SOS, and UOS
How to extend platform root of trust with secure boot
How to design vTPM (virtual TPM)
How to create a virtualized tamper-resistant secure storage service
Platform security feature virtualization and enablement (such as SGX, CSE/HECI/DAL, or SMEP/SMAP)
Hypervisor hardening
This document is for developers, validation teams, architects, and maintainers of ACRN for Apollo Lake SoCs.
The readers should be familiar with the basic concepts of system virtualization and ACRN hypervisor implementation.
Background¶
The ACRN hypervisor is a type-1 hypervisor, built for running multiple guest OS instances, typical of an automotive infotainment system, on a single Intel Apollo Lake-I SoC platform. See Figure 178.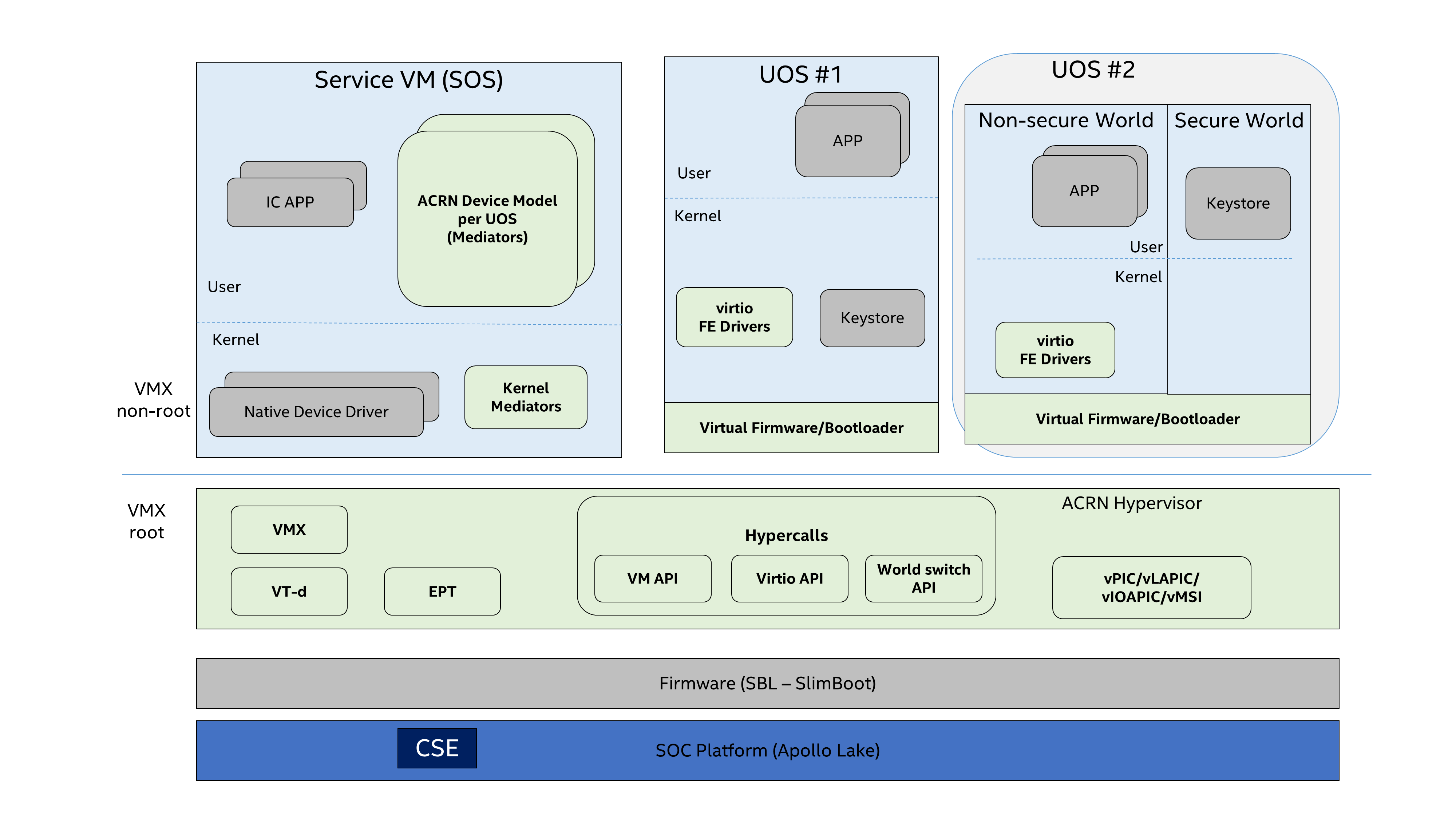 This document focuses only on the security part of this automotive system built on top of ACRN hypervisor. This includes how to build a secure system as well as how to virtualize the security features that the system can provide.
Usages¶
As shown in Figure 179, the ACRN hypervisor can be used to build a Software Defined Cockpit (SDC) or In-Vehicle Experience (IVE) Solution that consolidates multiple VMs together on a single Intel SoC in-vehicle platform.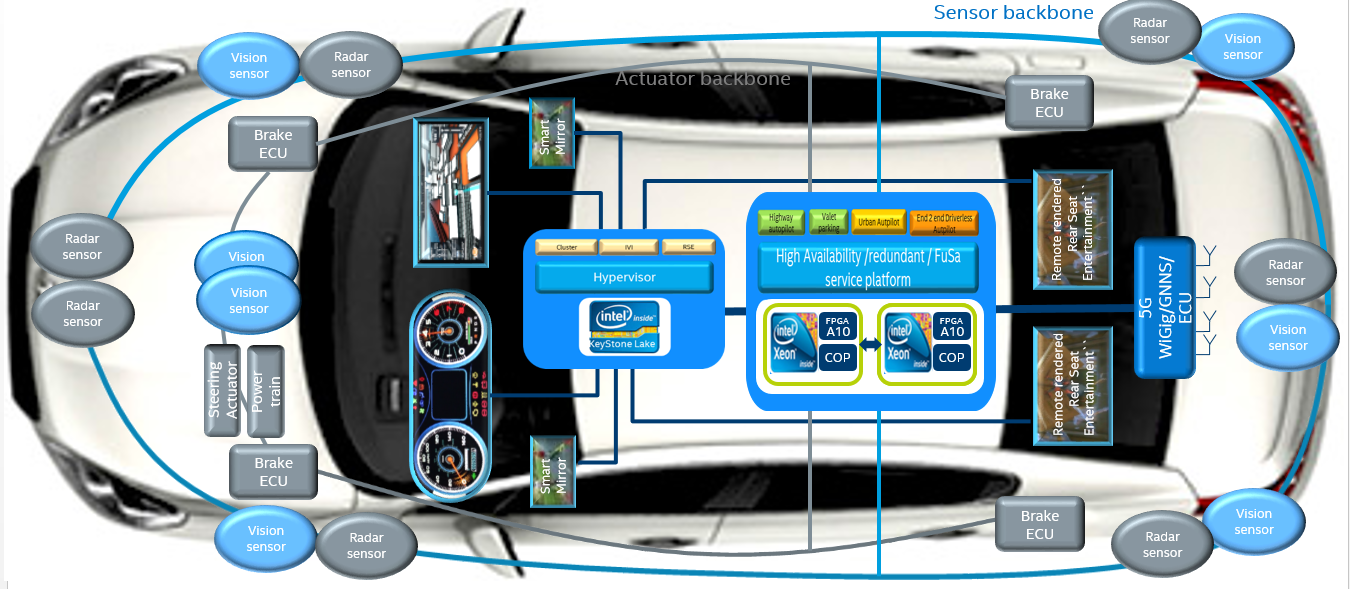 In this system, the ACRN hypervisor is running at the most privileged level, VMX root mode, in virtualization technology terms. The hypervisor has full control of platform resources, including the processor, memory, devices, and in some cases, secrets of the guest OS. The ACRN hypervisor supports multiple guest VMs running in parallel, in the less privileged level called VMX non-root mode.
The Service OS (SOS) is a special VM OS. While it runs as a guest VM in VMX non-root mode, it behaves as a privileged guest VM controlling the behavior of other guest VMs. The SOS can create a guest VM, suspend and resume a guest VM, and provides device mediation services (Device Models) for other guest VMs it creates.
In a SDC system, the SOS also contains safety-critical IC (Instrument Cluster) applications. ACRN is designed to make sure the IC applications are well isolated from other applications in the SOS such as Device Models (Mediators). A crash in other guest VM systems must not impact the IC applications, and not cause any DoS (Deny of Service) attack. Functional safety is out of scope of this document.
In Figure 178, the other guest VMs are referred to as User OS (UOS). These other VMs provide infotainment services (such as navigation, music, and FM/AM radio) for the front seat or rear seat.
The UOS systems could be based on Linux (LaaG, Linux as a Guest) or Android* (AaaG, Android as a Guest) depending on the customer's needs and board configuration. It could also be a mix of Linux and Android systems.
In each UOS, there could be a "side-car" OS system accompanying the normal OS system. We call these two OS systems "secure world" and "non-secure world", and they are isolated from each other by the hypervisor. Secure world has a higher "privilege level" than non-secure world, for example, the secure world can access the non-secure world's physical memory but not vice-versa. This document discusses how this security works and why it is required.
Careful consideration should be made when evaluating using the Service OS (SOS) as the Trusted Computing Base (TCB). The Service OS may be a fairly large system running many lines of code, hence treating it as a TCB doesn't make sense from a security perspective. To achieve the design purpose of "defense in depth", the system security designer should always ask themselves, "What if the SOS is compromised?" and "What's the impact if this happens?". This HLD document discusses how to security-harden the SOS system and mitigate attacks on the SOS.
ACRN High-Level Security Architecture¶
This chapter provides a high-level architecture design overview of ACRN security features and their development.